You are here: Home >> Technical >> Capacitive Touch Screen
Capacitive Touch Screen
 Type: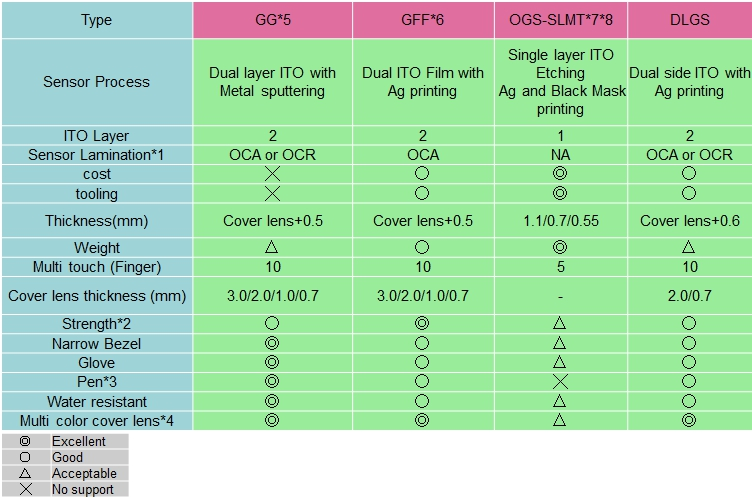 Note:
 *1  OCA: Optical Clear Adhesive
    OCR: Optical Clear Resin ( LOCA: Liquid Optical Clear Adhesive )
 *2  Sensor quality is impacted by ITO Patterning or CTP IC
 *3  Support O1mm passive/Active stylus ;Special Sensor Pattern by CTP IC
 *4  OGS -SLMT only support black color cover lens
 *5  GG :Cover glass to Glass sensor lamination
 *6  GFF:Cover glass to Dual ITO Film sensor lamination
 *7  OGS: One Glass Sensor Coating transparent electrodes directly on the cover glass
 *8  SLMT: Single Layer ITO Multi points Touch
 Structure:


Contact
26231 Enterprise Court, Lake Forest, CA 92630 , USA

Quality Control System
Quality figures promineutly as a fundamental value in all aspects of our manufacturing. Our strength is consistently maintainad through our effective manufacturing and prowrement quality system. We offer LCD module, including: TN/STN/FSTN LCM, COG LCD, TFT LCM, FSLCD, graphic LCM, character LCM, custom LCD, custom LCM, TFT embedded display, custom LCD display and projective capacitive touch display , resistive touch display, EMS.